Why Choose Hawk Horse Trailers?
We are concerned about designing and producing a horse trailer that will meet and exceed our customers' requirements. We believe our customer plays a valuable role when selecting a horse trailer to fit their needs. Other trailer manufacturers design trailers that are designed for high-speed production, or what we call "Cookie Cutter" trailers. These horse trailers usually cannot be modified in any way. In that way other manufacturers are placing more importance on their own company rather than on the customer.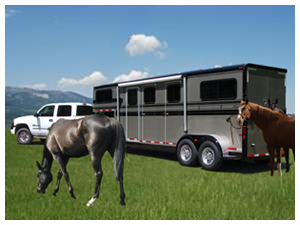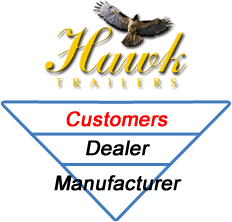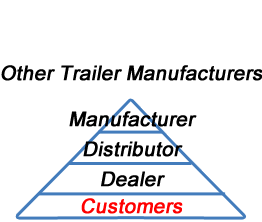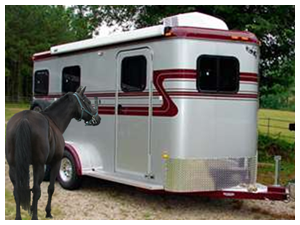 We encourage you to visit our "Factory Authorized" dealers to explore the world of the Hawk Trailer. Don't worry about receiving a high-pressure sales pitch. Hawk is more concerned about the safety and comfort of the horse and the ease of handling for the owner. For this reason, each of our dealers have trained professional people on staff who know how to ask and answer all the important questions. Our dealers work hard to identify your needs and concerns so Hawk Trailers can provide the proper trailer for you and your horses.
Hawk Trailers is a custom design manufacturer. To us the term" customization" seems to compliment the term "customer driven." So we have expanded our business to include specialty trailers. Much like ordering options on a vehicle, Hawk can modify standard model horse trailers with the features you require. But unlike many of our competitors, Hawk can design and build trailers for specific needs as well. Come see why Hawk is "Your Horse's Choice."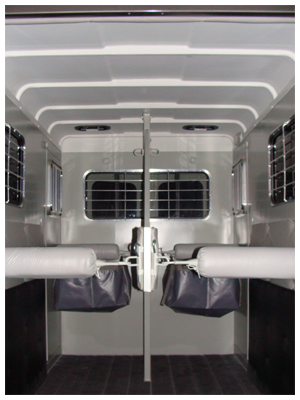 Why Hawk, because we truly are your horse's choice.
Our Frames:
Galvanized Steel
5″ & 7″ Formed "Z" frame
Strongest in the Industry
No rust
3 times stronger than aluminum
Sidewalls:
Galvanneal Tubing side frame
Galvanneal Sheet Steel on Interior Wall
Painted aluminum Skin on Exterior Wall – No acid wash
1″ insulation Between Walls from floor to Roof – Climate control and sound reduction
Fiberglass Roof:
Seamless one piece – No leaks
Reflects the sun, does not conduct heat – Trailer Stays 20°-25° Cooler
Reinforced with Galvanneal Tubing – Strong so you can walk on it
Color Matching to Personalize Your Trailer:
Standard body color: Pewter, Silver or White – Option for any color
Stripe, frame, ramps, fenders and roof radius all custom color matched to your vehicle at no additional charge
Vinyl graphics – One design with two standard color options

Black with Dark Charcoal Accent
Dark Charcoal with Red Accent
Note: Vinyl Graphics are available in other colors but may add additional cost
Standard Horse Area Parts:
Versatile – Removable post, partitions, dividers and gates
Powder coated parts
Fully lined and padded
Rear header pad – first in the industry, designed for the horses safety in mind
Feed bags are standard and inviting – Keeps them calm and comfortable while loading and riding
Windows are extra-large and come with screens and bar guards – Allows plenty of fresh air to enter the trailer
Designed for you and your horse:
Safety first – Low angle ramps, extra strong sidewalls fully padded and lined, no sharp edges, extra padding where others don't
Spacious and comfortable – standard 7′-6″ high x 72″ wide – Option 7′-8″ high x 80″ wide – Additional sizes available
Long lasting – Excellent resale value
Exceeds your expectations – Proud owners know that they are pulling the strongest, safest and most versatile trailer on the market
Travel calm, relaxed and worry free – Arrive stress free and ready to win