What Others Think About Hawk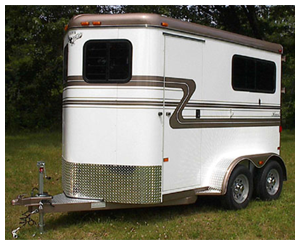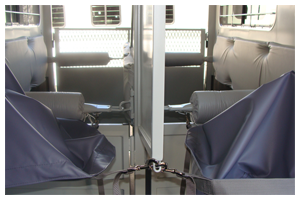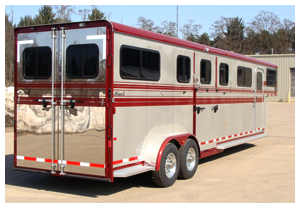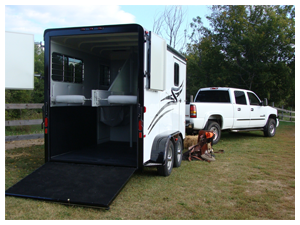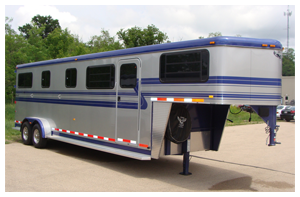 Dear Mr. Timm,
Cannot begin to express out thanks to you and Hawk Trailers LLC for the wonderful job you did on our trailer. We thank you from the bottom of our hearts for the support you have given us with our Equine Ambulance program. This trailer will enable us to move horses that would otherwise have to be euthanized, to a veterinary facility for treatment of their injuries. We offer to ambulance service free veterinarians. I have enclosed a few pictures of the finished product. It looks wonderful!
Thank you again,
Ron
Turtle Rock Rescue, Inc.
New Hampshire
To the Employees of Hawk Trailers:
We wanted to inform you of some circumstances that have arisen since the purchase of the trailer. Last weekend we took all three horses up to Flagstaff. On the way home we were stuck in a huge traffic jam, where we ended up going about 5 mph on a steep uphill climb for approximately 45 minutes. It was over 110 degrees. The first chance we got to check on the horses, we discovered the amazing fact, that they were quite better off than we were. The temperature inside the trailer was a good 20 degrees lower than it was outside! Obviously the fiberglass roof, and the insulation is working extremely well.
Recently we obtained a new gelding. The previous owner had advised us that the horse would get excited if not unloaded immediately. He told us that the horse had actually kicked out the window of his 4-horse slant trailer (made by one of your competitors) on two occasions. We have witnessed this horse getting a little nervous when not immediately unloaded, with much better results. He did his best, but was unable to kick out the window of our Hawk Trailer. In fact, the only damage that occurred was some slight bending of the aluminum window frame. Thankfully our trailer is made quite a bit sturdier than the competition.
On several occasions in the last few months, we have taken the trailer to the Pro-rodeo. We are proud to tell you, that we have had many compliments saying that our trailer was the nicest in the lot. Looking around the parking lot, we saw probably all of your major competitors represented by the many different trailers there. It was clear, that our trailer was the best looking rig there. Now we may be a little biased, but we don't think all the cowboys that commented on it were!
Sincerely,
Jim and Cindi
Gilbert, AZ
Dear Ron,
We just wanted you to know how much we appreciate the service you gave us when we brought our GN Hawk Trailer in for some maintenance work! We have never worked with a company who stands behind their product as you did that day. We were so impressed and thankful. We love our Hawk trailer and after that day, we'll continue to look to Hawk Trailers for our needs in the future. You deliver a wonderful product.
Thanks,
Jeff and Rose
West Bend, WI
Dear Hawk,
Robin and I would like to thank the employees and management of Hawk Trailers for the quick service to our trailer recently. All of our problems and concerns were taken care of in a professional manner. It took less than three weeks and we were very satisfied with the work.
We have always loved this trailer, but when it came time for service, we were apprehensive and anxious about how we would be treated. Our dealer Terry, assurred us that everything would be handled, and he was right!
Thanks again,
Robin and Danny
P.S. Our horses Killer, Lady, Misty, Buddy and PJ love it too!
Hawk Trailers
I just wanted to thank you for building such a great trailer and for putting me in contact with a fantastic dealer.
Love the trailer and the dealer was great to work with. Trailer hauls amazingly well and I have hauled a lot of trailers in the past 35 years. The ride the horses are getting is great and within a few uses the horses are loading better, obviously enjoying the trailer more than what I had been using.
I also noticed that loaded or empty there is no noticeable change in my trucks performance and very littlle in gas milage, the trailer handles that well. I pull with only a regulare 4 x 4 heavy duty half ton with the mid range GMC motor and it works great.
Thanks again for making the process easy and pleasureable.
Glenn Martin
Dear Bob,
I have had 4 good trailers in my riding life to date, and the Hawk is the best yet. The trailer was delivered to me, matched my truck, pulls like a dream and after 2 years is still ideal. I live in hot country, and was stuck in traffic in Phoenix last June at 104 degree temps. With the insulation in walls and ceiling, when I checked on the horses, they were cooler than I was. This is a HUGE comfort, to know that they are happy in their big light trailer in all weathers. I haul usually 5 to 8 hours to compete two BIG horses, about every two weeks spring thru fall. With any questions I had, the service was impeccable, extra parts were sent free. I could not recommend Hawk trailers more highly.
Cynthia Lazzaretti
Capitan, NM
Brian – Suzanne and I just pick up our new Hawk at your dealer, Horse Wheels, in Bergen, NY yesterday (see attached). We were the couple that had our Hawk totaled by a drunk driver while on vacation in Florida at the end of February. The fact that you put us 'front-of-the-line' after Marcia called and explained our situation has made us customers of yours for life. Our new Hawk is beautiful! And with all the upgrades you've made in the last ten years, we're very proud to have been able to get it for only a few thousand over our insurance settlement. Most of all, I just wanted to write to you to give you one giant THANK-YOU for all the responsiveness you showed us. I'm very glad that neither of our horses were injured in the accident, but I'm especially glad to have a'friend-in-the-business' like you, and a great dealer representative like Marcia at Horse Wheels. What I'd like to add to Ed's comments, is a conversation I had with a friend, who several years ago researched before buying his Hawk trailer. After hearing the details of the accident, his comment was, "The outcome would have been very different with an all-aluminum trailer. I bought the Hawk because of the steel frame construction. That's probably part of why your horses are still alive." We too are now firm believers that our horses would not have fared so well in any of the trailers we considered buying in Florida. Which leads me to my thank you to Marcia who I had not spoken with in at least eight years? After shopping around in the Ocala area, I didn't see a single trailer I liked as much as our now totaled Hawk, and so I called Marcia. She made it all happen, including convincing the insurance company of the Hawk's outstanding value in the resale market. I hope you will share this with those in your manufacturing facility who make such a great trailer. We are forever grateful.
Suzanne and Ed Suor
Bob:  Hawk Trailer is the Best
My Hawk trailer, which I purchased second hand, has come in handy, not just for transporting horse but for hauling hay and moving furniture. It also provides a safe and secure extension to the barn's tack room. I've also spent the night in the trailer. A good horse trailer is not just a horse trailer but also a multi-use trailer.
The Hawk trailer is an economical choice for a luxury style horse trailer. Hawk has many models to choose from. They offer two-horse to six-horse models from basic no manger or dress to horse trailer plus living quarters (the horsemen's motor home) with either bumper pull or gooseneck hook-up. All models have the look and feel of much more expensive brands.
Two-Horse Bumper Pull is My Choice unless you are doing a lot of overnights and enjoy the motor-home lifestyle, my recommendation is the two-horse bumper pull with manger/dress. This model is a good all -around choice that offers versatility at a reasonable price.
Some may consider the addition of the manger/dress to be an unnecessary added frill. I have found it to be an indispensable part of transporting horses. I highly recommended the manger/dress. The beneficial payoffs make it worth the additional $1,500 expense for a brand new model. For a used trailer the difference is even less.
The manager/dress provides a convenient place to transport all necessary tack. It comes standard with two saddle racks and six bridle hooks. There is room in the dress to carry hay bails and feed plus many other accessories while at the same time providing dressing quarters. If I had to, I could get by without the dress area but it has been an added feature I've been glad to have more times than not.
Hawk trailers are durable and they will last you many years. People keep them forever so it is not always easy to find used Hawks but if you keep your eyes opened you will find the one that is right for you.
Allen Lomax